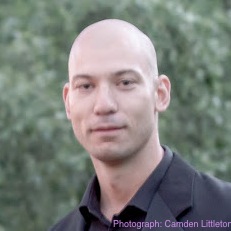 Confronting the immediacy of life, the compositions of Dr. John Nichols III have been described by listeners as "cosmic," "seismic," and "tectonic." Nichols began his formal musical training on the trombone and piano, leading to his first composition for trombone in 1995. From 1996-2002, his collaborations included playing in rock and jazz bands and writing for large ensembles such as orchestra and concert band. He also composed works for his peers in the Chicago area, resulting in compositions for oboe, flute, piano, viola, and voice. Although Nichols first began experimenting with tape in 1995, it was not until the early 21st century that his first works in the electronic medium were created.
Later, while studying composition with Professor Don Malone and collaborating with fellow students at the Chicago College of Performing Arts, he participated in and helped organize concerts utilizing a quadrophonic loudspeaker arrangement as well as a unique diagonal two-channel configuration. He also experimented with prepared piano, building instruments, and various methods of amplification. After three years of study in Chicago, he graduated after presenting a post-modernistic two-hour composition for twenty-two amplified instrumentalists and self-constructed instruments. After winning several awards [his string quartet won the Union League Civic & Arts Foundation Composition Contest in 2004 and the La Rock Composition Contest in 2005; "Trio for Flute, Oboe and Piano," and "Shadows of Love" (song) also won a Union Civic League Award from Chicago], Nichols moved to Alaska, where he continued studying trombone and composition with Professor James Bicigo and music technology with Professor Scott Deal.
From 2006-2008, Nichols composed works for various mediums such as percussion ensemble, jazz band, brass quintet, flute, trombone, cello, piano, and voice. Three of the compositions from this time were of a purely electronic nature. Other works utilized techniques such as amplification of brass instruments with contact microphones and the continued use of self-constructed instruments. Aesthetically, he continued to experiment with the potential for expanding the timbre palette of orchestral instruments and refined his ideas on timbre and form. It was during 2007 that he began to increasingly crave the potential for timbre variety through the electronic medium, and his final works during this period in Alaska were electroacoustic compositions.
Upon returning to Illinois in 2008, Nichols began composing largely in the electroacoustic medium. He completed his doctoral degree at the University of Illinois, Urbana-Champaign, where he won the Fourteenth Annual 21st Century Piano Commission Competition. He also took classes in advanced studio techniques with Professor Scott A. Wyatt and studied composition with Professors Sever Tipei, Phillip Blume, Zack Browning, Eric Lund, and Rick Taube.
Nichols has received international recognition for his electroacoustic works, and has had compositions performed at events such as Gaudeamus Muziekweek, International Computer Music Conference, New York City Electroacoustic Music Festival, and Society for Electroacoustic Music in the United States –among others. His works are honored with awards such as the 2014 Luigi Russolo Grand Prize & 1st Luigi Russolo Award (France, Spain), First Prize Absolute in the electro-acoustic music section of the 2014 International Composition Competition "Città di Udine" (Italy), First Prize in the 2014 ASCAP/SEAMUS Student Composer Commission Competition (USA), First Prize in the 2013 WOCMAT International Phil Winsor Electroacoustic Music Young Composers Awards (Taiwan), and winner of the 2013 Conlon Music Prize for Disklavier Plus (Netherlands). His works were also recognized in the 2013 Prix Destellos (Argentina), the 2012 Métamorphoses Composition Competition (Belgium), and the 2011 Morton Gould ASCAP Young Composer Competition. His latest compositions are published on Exhibitronic, Musique & Recherches, SEAMUS, Monochrome Vision, and ABLAZE Records. Nichols was selected as the winner of the Virginia Center for the Creative Arts "The Commission" 2016 with collaborator, Professor Anne Ferrer. The interdisciplinary work "Composite" combines sculpture with music and was featured at the ST'ART Strasbourg European Art Fair in November 2016. Nichols also presented his composition "GATES" at Diffrazioni Multimedia Festival in Florence, and delivered a guest lecture at Paris Université 8 during this recent trip to Europe. Dr. Nichols is currently serving as the Director of the School of Liberal Arts at Northwest Suburban College in the Chicago area.